Quick Details:
| | | | | | |
| --- | --- | --- | --- | --- | --- |
| Place of Origin | Henan, China (Mainland) | Brand Name | WEILI | Model Number | MGG |
| Product Name | Electromagnetic Flowmeter | Medium | Etc | Accuracy | 0.2% |
| Output | 4-20mA /RS485 Mbus | Power supply | 3.6v | Application | Widely |
| Connection | Flange Clamp | Type | Integral | Material | Stainless Steel |
Product Description:
Magne W3000 PLUS Smart Electromagnetic Flow-meter is of perfect performance
and Reliability Based on the successfully proved Magne W3000 flow technology of
Yamatake Corporation The flowmeter is widely used in inductries of petroleum chemical
engineering metallurgy ,food ,electric power ,papermaking ,water treatment ,etc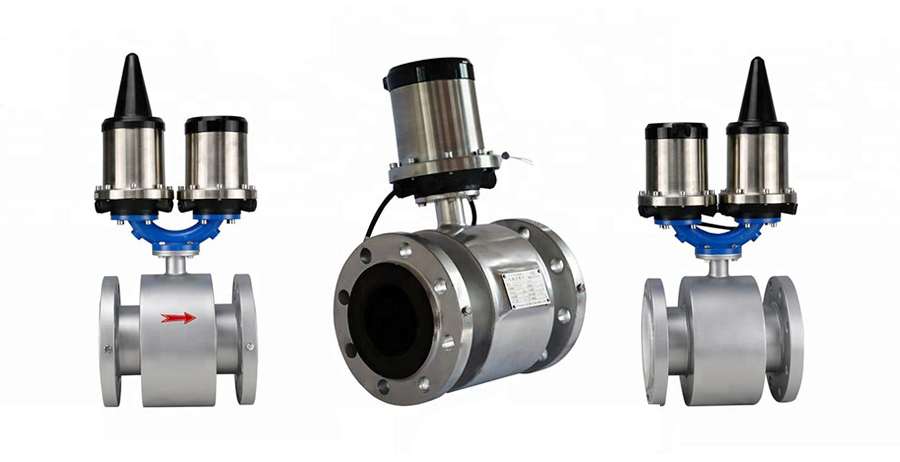 Characteristics:
Measurement is independent of fluid density , viscosity,humidity , temperature. pressure and conductivity There are no obstacle parts in the measuring tube no pressure loss to the tube of which the straight part is of low requirement.The sensor with grounded electrode gurantees the grounding well.The sensor with advanced processing technology is of nice resistance to the negative pressure The converter of the Magne W3000 PLUS makes the reading easily under the sun or in the dark room nstalled on the tube forming with the standard type on angle equal to or small than 90°,The revolving display screen improves the visibility of the integrated flow meter. In bad environment parameter can be without uncovering the cover of the converter set up through the infrared ray touch nub.The converter has alarm output function of selfdiagnosis, empty load test , high and low limit of the flow two stage flow value,etc.It is used not only in general process test ,but also in the test of mine pulp, paper pulp and pastry liquid .The sensor of high-pressure electromagnetic flowmeter is made with patent technology and specially applied in industries of petroleumchemical engineering ,etc.
Electrode material selection:
| | |
| --- | --- |
| Electrode material | Corrosion resistance |
| SUS316 | For industrial water, domestic water, sewage, corrosive media, widely used in petroleum, chemical, urea, vinylon and other industries. |
| Stainless steel coated tungsten carbide | For non-corrosive, highly abrasive media |
| Hastelloy B(HB) | Hydrochloric acid of all concentrations below the boiling point has good corrosion resistance, but also sulfuric acid, phosphoric acid, hydrofluoric acid, organic acids and other non-oxidizing acid, alkali, non-oxidizing salt solution corrosion. |
| Hastelloy C(HC) | Oxidative acid, such as nitric acid, mixed acid or chromic acid and sulfuric acid mixed medium corrosion, but also resistant to oxidizing salts such as Fe +++, Cu ++ or other oxidants such as hypochlorite solution above sea level, sea water corrosion |
| titanium(Ti) | It is resistant to seawater, various chlorides and hypochlorites, oxidative acids (including fuming nitric acid), organic acids, alkalis, etc, and is not resistant to the corrosion of pure reducing acids (such as sulfuric acid and hydrochloric acid). However, if the acid contains oxidants (such as nitric acid, Fe +++, Cu ++), the corrosion is greatly reduced. |
| Tantalum (Tan) | Has excellent corrosion resistance, and the glass is very similar, in addition to hydrofluoric acid, fuming nitric acid, alkali, almost all chemical media (including hydrochloric acid, sulfuric acid and aqua regia) corrosion. |
| Platinum - iridium alloy | Almost applies to all chemicals, but not aqua regia and ammonium salts. |
Lining material selection:
| | | |
| --- | --- | --- |
| Lining material | The main performance | The scope of application |
| Teflon(PTFE) | 1.The stable chemical properties of plastics in a material that is resistant to boiling hydrochloric acid,sulfuric acid and aqua regia, but also resistant to concentrated acids and various organic solvents, intolerance chlorine trifluoride, liquid oxygen, high velocity liquid oxygen, ozone corrosion. 2.Poor wear resistance | Concentrated acid,alkali and other corrosive media |
| PFA | Corrosion resistance with PTEF,strong anti-negative pressure | Can be used for negative pressure state |
| F46 | 1.Corrosion resistance with PTEF.2Can withstand low wear and tear.3,Strong anti-negative pressure. | 1.With PTFE 2.Can be used for low abrasive media |
| Neoprene | 1.Have excellent flexibility,a high degree of tensile force,good wear resistance.2.Resistant to the general low concentrated acid, alkali, salt medium corrosion, corrosion resistant to oxidizing media. | Water, sewage, weakly abrasive mud, pulp |
| Polyurethane | 1.Has excellent wear resistance (equivalent to 10 times the natural rubber).2 acid, alkali performance is poor.3Do not use water mixed with organic solvents. | Strong neutral wear pulp, coal slurry, mud and so on |
Main Features:

1) With simple structure ,the flow meter is of high reliability without lining in the measuring pipe .
2) The wide range of the nominal bore is suitable for all the pipe size between DN2 and DN600.
3) Measurement is independent of fluid density ,viscosity ,humidity ,temperature pressure and conductivity.
4) The sensor with advanced processing technology and liquid airproof is of long natural life and of nice resistance to shaking leakage.It guarantees the instrument good precision and stability .