Quick Details:
| | | | | | |
| --- | --- | --- | --- | --- | --- |
| Place of Origin | Henan, China (Mainland) | Brand Name | WEILI | Model Number | MGG |
| Product Name | BATTRRY Flowmeter | Medium | Conductive Liquid | Accuracy | 0.5% |
| Output | 4-20mA /RS485 | Power supply | Battery Powered | Application | Water Treatment |
| Lining | Neoprene , Polyurethane | Communicating | GSM data long-distance wirele | Struction form | Integral type ,Remote type |
Overview:
Magne W3000 PLUS Battery-powered Electromagnetic Flowmeter uses 16 digit embedded Super-Micro power consumption Microprocessor ,meanwhile adopts special technical designing excitation system of sensor ,having the functions such as higher integration ,fast in operational speed ,stable accuracy in calculation ,digital signal processing ,strong capability of interference immunity ,stable and reliable measurement ,automatic bilateral-flow measurement with instantaneous flow ,positive direction reverse direction, accumulate and total flow display ,data long-distance wireless transmission ,self-diagnosing fault register .Applying comprehensive areas are petrochemical ,metallurgy ,water supply and sewage irrigation works ,water treatment etc industries ,for which using flow measurement and trading associated with other companies ,especially applied in the flow measuring situation where there is no power supplying .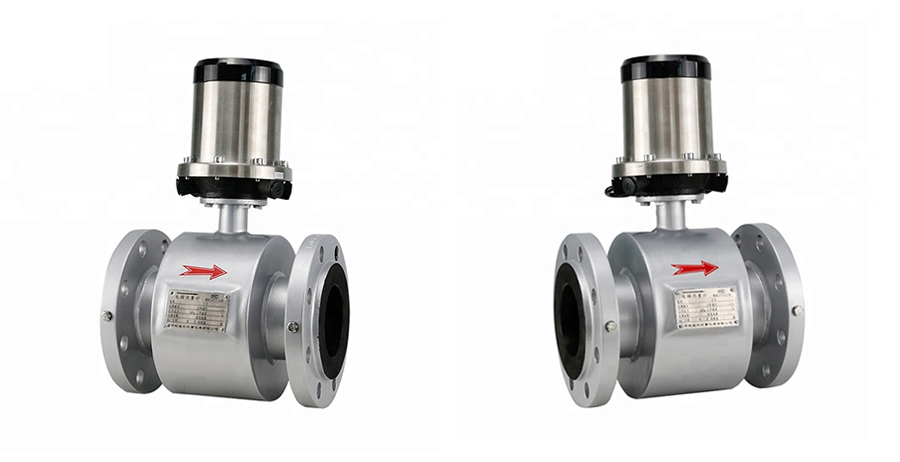 How to choose an electrode:
| | |
| --- | --- |
| Electrode material | Corrosion resistance |
| SUS316 | For industrial water, domestic water, sewage, corrosive media, widely used in petroleum, chemical, urea, vinylon and other industries. |
| Stainless steel coated tungsten carbide | For non-corrosive, highly abrasive media |
| Hastelloy B(HB) | Hydrochloric acid of all concentrations below the boiling point has good corrosion resistance, but also sulfuric acid, phosphoric acid, hydrofluoric acid, organic acids and other non-oxidizing acid, alkali, non-oxidizing salt solution corrosion. |
| Hastelloy C(HC) | Oxidative acid, such as nitric acid, mixed acid or chromic acid and sulfuric acid mixed medium corrosion, but also resistant to oxidizing salts such as Fe +++, Cu ++ or other oxidants such as hypochlorite solution above sea level, sea water corrosion |
| titanium(Ti) | It is resistant to seawater, various chlorides and hypochlorites, oxidative acids (including fuming nitric acid), organic acids, alkalis, etc, and is not resistant to the corrosion of pure reducing acids (such as sulfuric acid and hydrochloric acid). However, if the acid contains oxidants (such as nitric acid, Fe +++, Cu ++), the corrosion is greatly reduced. |
| Tantalum (Tan) | Has excellent corrosion resistance, and the glass is very similar, in addition to hydrofluoric acid, fuming nitric acid, alkali, almost all chemical media (including hydrochloric acid, sulfuric acid and aqua regia) corrosion. |
| Platinum - iridium alloy | Almost applies to all chemicals, but not aqua regia and ammonium salts. |
| | | |
| --- | --- | --- |
| Lining material | The main performance | The scope of application |
| Teflon(PTFE) | 1.The stable chemical properties of plastics in a material that is resistant to boiling hydrochloric acid,sulfuric acid and aqua regia,but also resistant to concentrated acids and various organic solvents, intolerance chlorine trifluoride, liquid oxygen, high velocity liquid oxygen, ozone corrosion.2.Poor wear resistance | Concentrated acid,alkali and other corrosive media |
| PFA | Corrosion resistance with PTEF,strong anti-negative pressure | Can be used for negative pressure state |
| F46 | 1.Corrosion resistance with PTEF.2Can withstand low wear and tear.3,Strong anti-negative pressure. | 1.With PTFE 2.Can be used for low abrasive media |
| Neoprene | 1.Have excellent flexibility,a high degree of tensile force,good wear resistance.2.Resistant to the general low concentrated acid, alkali,salt medium corrosion, corrosion resistant to oxidizing media. | Water, sewage, weakly abrasive mud, pulp |
| Polyurethane | 1.Has excellent wear resistance (equivalent to 10 times the natural rubber).2 acid, alkali performance is poor.3Do not use water mixed with organic solvents. | Strong neutral wear pulp, coal slurry, mud and so on |
Main Features:
1) With simple structure ,the flow meter is of high reliability without lining in the measuring pipe .
2) The wide range of the nominal bore is suitable for all the pipe size between DN2 and DN2000.
3) Measurement is independent of fluid density ,viscosity ,humidity ,temperature pressure and conductivity.
4) The sensor with advanced processing technology and liquid airproof is of long natural life and of nice resistance to shaking leakage.It guarantees the instrument good precision and stability .